Miscellaneous
Safety program has started this week and will continue through the remainder of the school year.  Please visit

mattcooley.edublogs.org/safety-schedule/

to learn more about safety teams and schedule. 

Spirit Week – September 21-25

PJ Day (no pillows, blankets, or stuffed animals)

Silly Sock Day

Crazy Hair Day

Hat Day

Maize & Blue Day

Walkathon!
We are holding our annual WALKATHON next week which is our primary fundraiser for the year.  One of our objectives in the Parent Club is to raise money to help cover costs such as classroom supplies, technology upgrades, storage solutions, books, field trips, parent/child events and other needed items for each class.
We want to promote a healthy lifestyle to our students and the community.  Please help us reach our fundraising goal by supporting our Walkathon. We have teamed up with Get Movin'© to make this event fun and profitable with online mobile friendly technology! 
We Need All Parents to Complete 3 Easy Steps!
   

Register

your Child by visiting

www.getmovinfundhub.com

It's free, easy, and fast to register! 

For School Identifier use 5f3d669d605c9

 

Consider sending an Email and/ or Text of

your child's student fundraising webpage with 10-15 friends and family. It's super easy!

 

Consider Posting on Facebook or Twitter

It's two clicks of a button to post. You'll be surprised when donations come in from distant relatives/friends from HS/co-workers.  Post and see what happens!
Student Goals!
o   We need 100% student registration please visit www.getmovinfundhub.com today!
o   Each student is encouraged to raise at least $30.
o   Be an Overachiever Superstar by raising at least $150.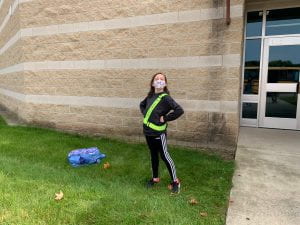 Safety Team 1 keeping us safe at dismissal!